Key points in preventing tobacco use among adolescents
Tobacco Induced Diseases
2010
8:1
Received: 2 December 2009
Accepted: 5 January 2010
Published: 5 January 2010
Tobacco use is the largest global threat to public health and is anticipated to kill 1000 million people prematurely this century [1]. Despite this grim fact, millions of lives can be saved if urgent action is taken towards preventing cigarette experimentation and subsequent nicotine addiction among adolescents. In the European Union alone, 19.8% of 13-15 year olds are current tobacco users, while one in three non-smokers of the same age, report susceptibility to smoke within the next year [2]. This exact youth experimentation is what the tobacco industry's future prosperity depends on, a fact that the multinational tobacco industry has acknowledged [3].
Substantial research by health professionals, and public health policy advocates have indicated different avenues through which adolescent smoking can be prevented at a population based level, key points which are depicted in the Tobacco Control Funnel in Figure
1
.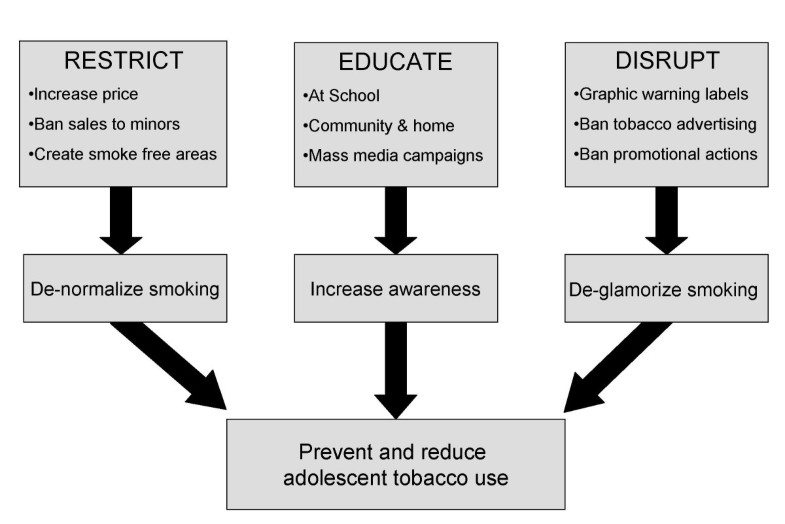 (1)
Associate Editor, Prevention and Clinical Sciences, Greece
© Vardavas; licensee BioMed Central Ltd. 2010
This article is published under license to BioMed Central Ltd. This is an Open Access article distributed under the terms of the Creative Commons Attribution License (http://creativecommons.org/licenses/by/2.0), which permits unrestricted use, distribution, and reproduction in any medium, provided the original work is properly cited.