Impact of Genetic Polymorphisms on the Smoking-related Risk of Periodontal Disease: the Population-based Study SHIP
Tobacco Induced Diseases
2003
1:197
Published: 15 September 2003
Abstract
Periodontitis is a bacterial inflammatory disease leading to attachment loss with the consequence of tooth loss. There exists a multifactorial risk pattern including bacterial challenge, smoking, age, sex, diabetes, socio-economic and genetic factors. Smoking has the highest impact on the course of the disease modulated by all the other factors. Here, we report the relationship between smoking and the polymorphisms of genetic polymorphisms inflicted in the pathogenesis.
In a randomly selected population-based study, 1083 subjects were typed for the polymorphisms of the IL-1 genotype, Fcγ RIIIb receptor gene, myeloperoxidase and N-acetyltransferase (NAT2) and related to their periodontal state. Smoking behavior was assessed including present and past quality and quantity of smoking.
There is a significant dose-effect relationship between the exposure to tobacco smoke and the extent of periodontal disease assessed as attachment loss and tooth loss. Moreover, there are gene-environmental interactions as subjects bearing variant genotypes show an enhanced smoking-associated risk of the disease modulated by these genotypes. In non-smokers, the impact of these genetic polymorphisms is mostly negligible.
This study provides support for the hypothesis that subjects bearing genetic variants of polymorphically expressed phenotypes are at an increased risk of periodontitis when smoking. Mostly, this may be accomplished via the influence of smoking-related impairment on defense mechanisms rather than on the pathogenic pathways.
Keywords
Periodontitis
Tobacco Smoke
Tooth Loss
Periodontal State
Attachment Loss
Introduction
Periodontitis is a very common inflammatory disease caused by oral bacteria and leading to irreversible attachment loss, bone destruction and eventually to tooth loss. Approximately 30% of the adults in Europe are affected, among them 5–15% with severe periodontal disease [1]. Similar figures were reported for the U.S.A. [2]. An interest in risk assessment for dental conditions came from the observation that some people are more likely to be affected by the sequelae of periodontitis than others [3]. Whereas the infection is a necessary prerequisite for the development of periodontitis, its course and severity depend on a number of inherited and environmental conditions. Thus, periodontal diseases present a wide range of clinical variability and severity. Both environmental and genetic factors contribute to individual variations in the etiology of periodontal diseases [4]. This individual susceptibility seems to be of major importance in determining the manifestation and progression of the disease [5]. Now there exists evidence that the inter-individual variability in this condition depends on genetic factors, probably most of them as yet unidentified [6, 7].
Smoking is one of the major environmental risk factors of periodontitis as shown in numerous studies (for reviews see [8, 9]). In different studies, smoking was confirmed as a risk factor for periodontitis with odds ratios varying between 2.5 and 6 [10]. In subgroups of patients the risk may be even higher, especially in the younger. Smoking is not only a risk factor for the severity of the disease, but smoking also delays healing and is associated with refractory periodontitis. Although the correlation between tobacco use and periodontal disease is quite strong, the role of tobacco in the pathogenesis of periodontal disease is uncertain. Environmental-gene interactions may play some role in the risk of the disease. Candidates for such genetic susceptibility factors are polymorphisms of genes modulating the immune response (e.g. FcγRIII receptors [11, 12]), genes inflicted in metabolism of products of tobacco smoke (Myeloperoxidase [13], N-acetyltransferase [14]), genes in the process of inflammation (interleukin-1 [15, 16]) or related to tissue destruction (metalloproteinases [17]).
All these genes are expressed polymorphically, i.e. at least two different types of the gene product exist in a population in a high and constant proportion. Consequently, the proteins expressed by the wildtype or mutated genes function differently in the pathogenesis of diseases influenced by them. A schematic representation of the course of periodontitis including modifying risk factors is depicted in Fig.
1
. N-acetyltransferase (NAT2) and myeloperoxidase (MPO) are enzymes participating in the metabolism of xenobiotics including arylamines from tobacco smoke. In addition, MPO is inflicted in defense against bacterial challenge and inflammatory tissue destruction. Interleukin (IL-1) proteins play a pivotal role in chronic inflammation and function as stimulators of matrix destruction and bone resorption leading to tooth loss. Leukocyte Fcγ receptors mediate the effects of immunoglobulins and the variant genotypes express phenotypes of diminished affinity for IgG. They are expressed on neutrophils, macrophages, monocytes etc, all of them cell types invading inflamed tissues as the periodontal gingiva.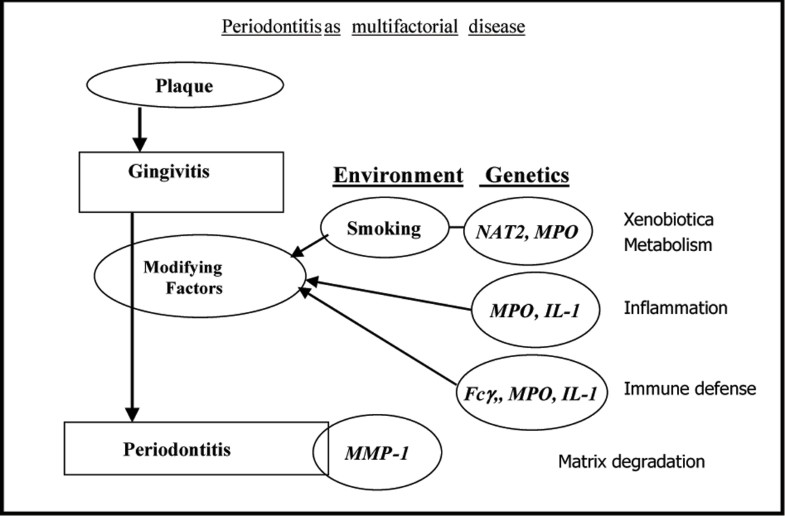 Numerous studies on the above mentioned and other genetic factors revealed risk-modulating effects for periodontal diseases. However, it is quite unclear if these effects alter the periodontal phenotype as such or if the action of other risk factors is modulated, affecting the periodontal outcome in an indirect way. As smoking is the most important risk factor for periodontitis, the objective of this study is to evaluate the interaction between smoking and various genetic factors known to have an impact on the course and severity of periodontitis. In a population-based, cross-sectional study we performed genotyping for different polymorphisms and related them to the smoking behavior of the participants.
Results
In the Caucasian population studied here, the assessed gene frequencies including the 95% confidence intervals were for NAT2 – slow acetylating phenotype 57.1% (54.1 – 60.0), MPO low expression A/A – A/G genotypes 34.1% (31.1 – 36.9), FcγRIIIa-158F low IgG affinity 57.4% (54.4 – 60.3), FcγRIIIb-NA2 – low affinity 86.9% (84.8 – 88.8) and IL-1 – risk (positive) genotype 36.4% (33.6 – 39.3). These frequencies are in agreement with other studies made in Caucasian populations.
From an epidemiological point of view, considering the frequencies of smoking and the putative genetic factors as well as the prevalence of periodontitis, an interaction between these factors seems reasonable. In the following, it will be shown that each of these genetic polymorphisms has an impact on the extent of periodontal disease and that it is mediated by the interaction with smoking.
Discussion
To date, the complex interaction of environmental factors with periodontal diseases is poorly understood. Although the correlation between tobacco use and periodontal disease is quite strong, the role of tobacco in the pathways of periodontal disease is uncertain [27]. In addition, there is obviously an interaction between hereditary factors and smoking, the latter being also associated with sex, age, education, stress and other risk factors of periodontitis.
With respect to smoking, direct local effects are to be distinguished from systemic effects. Complex interactions between circulatory and immunological effects exerted by nicotine as well as toxic effects by arylamines and other products of tobacco smoke are to be taken into consideration. Thus, it seems plausible to study genetic dispositions of inflammation-related factors as well as toxicity-modulating metabolic polymorphisms.
As can be concluded from the results presented, smoking is the most important risk factor: it increases the risk of periodontitis irrespective of the genotype. This risk is further aggravated in subjects bearing particular alleles of the polymorpically expressed genes studied. The risk of the disease may be worsened by either the genetic or the environmental agent, possibly the genotype increases the effect of the agent [28]. Smoking periodontitis subjects typically failed to respond to specific microbes [29]. Arylamines when detoxified insufficiently act as immunosuppressants [30], they are activated to reactive intermediates in leukocytes or by activated neutrophils and monocytes.
The binding of IgG immune complexes by phagocytes is an important defense mechanism of inflammation. The activation of the FcγRIII receptors mediates the release of cytokines, phagocytosis and cell-mediated cytotoxicity [31]. The polymorphism of FcγRIIIb influences the ability of neutrophils to phagocytize IgG-opsonized particles. The finding of an association between the frequency of the FcγRIIIb allele of low IgG affinity and the extent of periodontitis is in agreement with studies by Kobayashi et al. [12].
This receptor isoform exhibits a lower affinity toward IgG1 and IgG3. As shown (Fig. 4), smoking and the presence of the FcγRIIIb NA2 allele leads to an increased attachment loss indicating more severe disease.
This is in agreement with results showing that smoking lowered the sensitivity to the stimulation of Fcγ receptors [32]. Ligation of FcγR causes the release of inflammatory mediators, among them interleukin IL-1.
Phenotypic differences exist in interleukin levels corresponding to the genotype and these differences are related to periodontal disease [33]. The positive IL-1 genotype results in enhanced levels of pro-inflammatory cytokines and an increased formation of interleukins is known to be induced by nicotine and/or bacterial lipopolysaccharides [34, 35]. These changes may serve as predisposing factors in periodontal disease. IL-1 gene polymorphisms are highly related to plasma levels of CRP and fibrinogen which are markers of systemic inflammation [36]. Frequently, such signs of systemic inflammation are enhanced in smokers. Different studies revealed the suppression of cytokine production by tobacco smoke extracts [37]. Release of cytokines from neutrophils seems to be affected more by smoking than the disease.
However, in gingival crevice fluid no difference was found in IL-1β concentrations [38].
It is well known that myeloperoxidase activity is increased in inflammatory gingival tissue. Inflammation-related recruitment of neutrophil leukocytes into the affected tissue is most likely responsible for the action of MPO in the gingiva. Exchange of an adenosine for a guanosine at position – 463 in the 5'-untranslated region of the MPO gene leads to the loss of a transcription factor binding site. Reduced binding of transcription factor SP1 results in a diminished expression of MPO. Smoking may override this protection of diminished enzyme activity in the most affected individuals (more than 30% attachment loss 6 mm, Table 2). However, in subjects with more moderate disease, the protective effect is still detectable in smokers also [13]. Possible protective effects seen in non-smokers bearing at least one A allele of MPO are not obvious in smokers. Probably, the MPO polymorphism-related effects are sex-specific as the protective role of the -463A allele was detected in women but not in male subjects [13].
Smoking subjects who were phenotypically rapid acetylators had more severe signs of periodontal disease than non-smoking patients regardless if phenotypically rapid or phenotypically slow. As shown, only subjects bearing both risk factors – smoking and metabolic rapid phenotype – are prone to increased attachment loss. These data suggest that the increase in risk imposed by NAT2 acetylation may be related to smoking. Again, this influence was obvious only in the most affected individuals. In a former study, we have shown that, in contrast, smoking slow acetylators bear a higher risk when bone loss was the parameter assessed to characterize the disease [14]. Any explanation of the association between the acetylation polymorphism and the immune/inflammatory responses remains speculative at this time. The known role of the enzyme NAT2 is related to the detoxification of foreign substances in the liver. Nicotine induces a local vasoconstriction reducing blood flow and gingival bleeding. On a systemic level, smoking leads to diminished levels of circulating IgG2, the immunoglobulin reactive with periodontitis-associated bacteria [29]. Systemic alterations in the host response by genetic variations in the N-acetyltransferase metabolic capacity for arylamines may explain the mechanism for the results shown here. Possibly, the impaired metabolism of smoke-derived arylamines may have relations to other known risk factors, for instance the IgG2-related immune reactions. Arylamines may act as immunosuppressants [30]. They are activated to reactive intermediates in leukocytes by NAT [39], by activated neutrophils and monocytes releasing myeloperoxidase or even by tissue-specific activation by prostaglandin H synthase [40].
In conclusion, neutrophils are the most probable effector cells of the smoking-related effects associated with the genetic polymorphism shown. Recruitment of neutrophils and their exaggerated responses are a critical component in the pathogenesis of periodontal disease including local tissue injury [41]. Their function is impaired in smokers with chronic periodontitis [42]. The polymorphisms related to this central role represent major steps in this interplay as cell recruitment by IL-1, cell activation by IgG binding at Fcγ receptors or release of myeloperoxidase from the cellular granules. Impairment of these functions by different phenotypes seems to have only minor effects on the disease. The additional harmful tobacco smoke may override the potential for compensation. The extent of such interplay may depend on quantitative dose-effect relationships. A recent study suggests dose-effect relationships exist with respect to the genetic as well as the environmental factor [43].
Declarations
Acknowledgements
This work is part of the Community Medicine Research net (CMR) of the University of Greifswald, Germany, which is funded by the Federal Ministry of Education and Research (grant no. ZZ9603), the Ministry of Cultural Affairs and the Social Ministry of the Federal State of Mecklenburg-West Pomerania. The CMR gathers several research projects which share data from the population-based Study of Health in Pomerania (SHIP). (SHIP; http://www.medizin.uni-greifswald.de/cm).
Authors' Affiliations
(1)
Department of Pharmacology, Ernst Moritz Arndt University Greifswald, Greifswald, Germany
(2)
Department of Immunology, Ernst Moritz Arndt University Greifswald, Greifswald, Germany
(3)
Department of Anatomy, Ernst Moritz Arndt University Greifswald, Greifswald, Germany
(4)
Department of Epidemiology, Ernst Moritz Arndt University Greifswald, Greifswald, Germany
(5)
Department of Periodontics, Ernst Moritz Arndt University Greifswald, Greifswald, Germany
(6)
Department of Pharmacology, Greifswald, Germany
Copyright
© Meisel et al; licensee BioMed Central Ltd. 2003
This article is published under license to BioMed Central Ltd. This is an Open Access article distributed under the terms of the Creative Commons Attribution License (http://creativecommons.org/licenses/by/2.0), which permits unrestricted use, distribution, and reproduction in any medium, provided the original work is properly cited.